Lets be honest. This week kicked my butt. I had a 3 year old with a raging ear infection and a 1 year old with the stomach flu. On top of it all, L (1) decided she was going to boycott naptime and bedtime, and instead scream at the top of her lungs. I apologize for not responding to your wonderful emails and comments. Please keep 'em coming. I promise I'm not intentionally ignoring you.
The craziness of the week, coupled with the warm weather left me wanting to step away from the oven/stove and make a fresh, no-cook dinner. We had some left-over cooked chicken breast in the fridge so I threw together these simple but delicious Caprese sandwiches with chicken and avocado. Choose the ripest, juiciest tomatoes you can find, and the freshest mozzarella (the kind in water). I
drizzled
drenched this bad boy in balsamic vinegar after the photos were taken. And it was perfect. For a vegetarian option, leave off the chicken. You won't miss it at all.
California Caprese Sandwiches
printer friendly recipe
makes 4 sandwiches
1 French baguette, halved lengthwise
2 tablespoons extra virgin olive oil
1 clove garlic, minced/crushed
1 cup shredded chicken breast (optional)
2 fresh tomatoes, sliced
2 fresh mozzarella balls, sliced
1-2 avocados
salt and freshly ground pepper
fresh basil leaves
balsamic vinegar
Preheat broiler. Pull out some of the soft insides of the bread to make more room for your fillings. Place crushed or minced garlic in olive oil in a small bowl. Brush garlic oil onto cut sides of bread. Place under broiler, cut side up, until toasted.
Top bottom piece of bread with chicken, tomatoes, mozzarella, and avocados. Sprinkle salt and pepper. Drizzle with balsamic vinegar or balsamic glaze (I love the balsamic glaze from Williams Sonoma). Top with basil and top half of bread. Slice into sandwiches!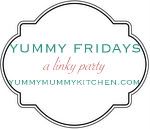 Last week was the best link party Yummy Mummy has seen yet! I was blown away by ALL of the 24 amazing links. If you haven't gotten a chance to check them out, click
here
and go through these recipes. I promise you will be inspired.
There were a few that I just had to share with you.
Slim Paley's
Lavender Pudding
. Everything Slim touches is so lovely and elegant.
This
Chocolate Ice Cream Cake
Hanna made for her hubby's birthday needs no words. Go check out one of my new favorite blogs, Bouffe e Bambini.
What are y'all thinking about these weekly linky parties? I really appreciate your input so please be honest. Do you think they are awesome, inspiring, annoying, crowding your inbox? Tell me, People, so I know if this should end with June, or continue on through the Summer, etc.
Here's this week's linky roundup! Link up anything creative. Doesn't have to be a recipe. Please come click through all the entries and let the fabulous bloggers know you appreciate their inspiring posts. It would be lovely of you to add the Yummy Friday button to your blog or post, but it's not necessary. It's a party, after all!